Impact event feedback
Posted 2020-02-25 10:06:42 by Admin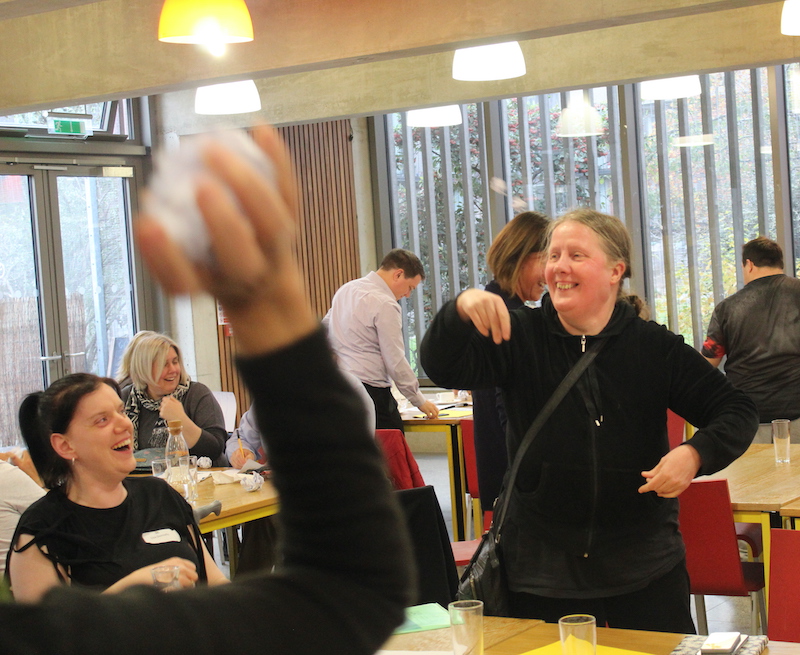 We had lots of great feedback from our Impact Event at Coin Street Neighbourhood Centre in London.
Mel took on the task of 'unscrunching' and sorting all the feedback sheets after everyone had made snowballs out of them at the end of the event.
Here's what you told us. Thanks again to everyone who came and contributed to a great day!
---
Good
Well organised and balanced day. Packed a huge amount in and ensured all members of the research group were equally represented. I'm looking forward to looking at the website and following the ongoing work of the research group. Great ways of capturing feedback and ideas – very creative and inclusive methods. Will borrow them!
Meeting new people and hearing about the positive things that are happening in people's lives.
Inclusive. Nice lunch. Interesting. Varied.
I am happy meet new friends and a great trip to London and I want to say thank you to Anne and Alex. Thank you for everything from the group.
Interesting – challenged some of my thinking. As an organisation (CIC) we will discuss self building as a concept and will include it in staff training and induction. We will introduce it to our members. We will use some of your research methods – particularly around building blocks – particularly around activities, interests and lifestyles. I'm going to spend time with your resource pack and look at ways of promoting it to our local authority and social work teams, schools & colleges. Would like to use your film during staff recruitment and training. Research the role of the Community Living Worker. Going to explore the Centre for Research in Inclusion.
Anything which supports us to have a bigger say in my ? is good to use! Continuing to investigate the what and how to achieve this is incredibly valuable.
Great vibe.
Really good venue. Well paced and inclusive event. Liked use of post-its for feedback. Feel good that good outcomes without lots more funding.
Great venue, great people & networking. Really enjoyed. Thank you.
Happy we working together.
I was pleased with how today went. It was a good mix of academics, providers, family supporters & self-advocates. There was clear learnings from the day. There was learnings I could take back to my organisations.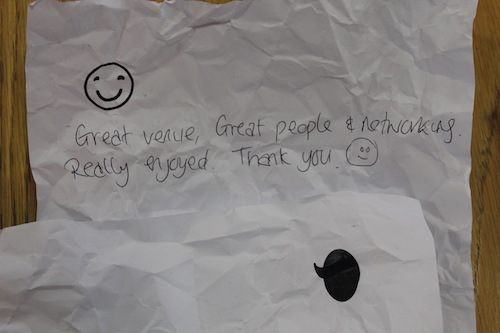 ---
Bad
The impact that eligibility has for people who have low and moderate support needs.
"If it works for us it works for everyone" – what about people who didn't / couldn't self select for the study.
Key messages could still be clearer for different audiences.
Make funding streams & criteria more accessible to people with LDs & families.
---
Indifferent
Really good research though day not very supportive due to lots of talking.
Leaving London has the best time at the conference wish I had more time sight seeing.
Not everyone has the same opportunities.
I feel that most things discussed are already deep in the minds of all those who attended. I would like to have something more concrete to come away with but I can't think what it would be! Good research though – well done!
Too much talking!!
Work opportunities?
---
Tell us what you think about the issues
Good day – informative, good to meet other groups. Main learning about advocacy groups and self advocacy. Importance of finding a voice for people. Community learning and drive to move forwards for transformation.  Concerns: getting the research out to those policy makers, how to fund, facilitate that voice so that policy and practice really does become person led, person centred. If this does not happen the research is sadly meaningless and the money for funding wasted.
How about pensions for everyone assessed as having a learning disability? No reassessments… They do it in Japan.
It is good to speak but even better to be listened to.
I would like to continue this work more because those in power need to listen.
Self advocacy – thinking about the best ways to engage people with self advocacy. When encouraging people to take control of their lives when others don't want to give control. All about communication and getting thought out to each other.
What is this telling us that we don't already know? Person centred planning, direct payments etc are all meant to lead to self building a life; we would like information on how to tackle the issues, how we circumnavigate the lack of funding and how we affectively take action.
Book shop model.
If I run a day centre how do I go about migrating to self build social care?
Given that the numbers of people with a learning disability is thought to be around 1-2 million people across the UK, how can we capture the experience of more people?
How do we get the building blocks in place for individuals – information, real choice, support, activities, funding etc to make a difference for people. We have been here before with other initiatives and the impact has not been what was hoped. 
Use the experiences of others to make positive outcomes. 
Lots of positivity presented but as this really isn't new ground perhaps the focus should have been: Seriously what's gone wrong since the ray of hope that self directed support was meant to be? Here are some actual solutions on how to fix it… A guide for those who actually have influence. 
---
Tell us what you will talk to others about 
I found the issues raised today were very interesting – particularly the similarities and differences in the different areas.
I would like to talk to the self building our lives researchers about how I can apply their learnings within my organisation. I would like to speak to the other providers about our sector Pulse check. I would like to talk to academics about collaborating in research.
How important it is to join a self advocacy organisation.
Thoughtful! How can we continue the work?
Really important project and findings. Interested to understand more ? about how 'building blocks' are made possible – different funding streams and systems e.g. ISFs, IB, Social Care Assessments, grants. Resource pack will be great. 
Great to have the artists working at the same time as discussion/presentation. Great to see the researchers 'correcting' re using first names and full names. I will talk more about self advocacy training. Thank you!
It's about making connections. It's about learning and growing.
---
Tell us what you will do as a result of the day (Take Action!)
As a result of this day, I will discuss all the issues and the results with my colleagues and we will invite you to the Heart n Soul at the hub (Wellcome). We would love to show you around and discuss our research results.
Share this project with our organisation; sign up to the email list; keep supporting autonomy for pwld.
Find ways of promoting self advocacy in our local area.
Discuss with colleagues the research to create change in line with people's wishes.
Connect with others I have met today. Transition a traditional day service from block contract to ISF model, to unlock funding resource. Explore pooled budgets, social enterprise. Test out resource pack.
Go and make it happen. On 13th December tell my MP and ask for an invitation to meet them at Parliament.
Type up my notes from today and share with work team.
Discuss with friends. Download resources and share with team.
Talk to local MP.
Share the resources with everyone locally, keep sharing & promoting website using social media.
Going to take it back to Glasgow and tell people about what I have learned today and tell the big local authority people more funding needs to go to local services/organisations rather than closing down services.
Help my daughter open an inclusive coffee shop in Croydon.
Produce reports to those that can make changes?
Type up my notes from today and send them to Welsh commissioners.