Facilitating Engagement In Social Activities
"[people] are looking for us to heighten the social aspect in their life"
Engaging in social activities is a fundamental part of life. And yet, in our research, several examples were provided by people with learning disabilities of their experiences of being routinely left in their flat by themselves with limited means to take part in social activities. This was an important finding as spending time with others is one of the most fundamental of our needs. With personalisation, there is a risk that support becomes so individualised that collective opportunities to meet and connect with others diminish.
Although life in the community may afford more opportunities for people with learning disabilities to be involved in mainstream activities, there is the risk of social isolation unless proactive steps are taken to promote their social inclusion. Our research found that people often have weak social ties, unless these are facilitated by a local community friendship, 'getting out', or peer-support organisation. Belonging is not just about being in contact with a community, it is about feeling a sense of care and rootedness.
One organisation, Independent Advocacy Project, operate a model where they support people to make connections with citizen advocates with similar interests in the community, based around the person's interests and goals:
"So say they really like knitting, it may be that we go to a knitting group to look for somebody in their local community, or if car racing's their thing we might go to [a local track]. So, they identify the kind of person that they would want. So, they might want a younger person or an older person or somebody with hobbies similar to theirs. Also we can't guarantee that we'd be able to do that, but we do try to ensure that what they say to us informs that networking strategy, and we try to get as close as possible to the kind of person that they would want to be their advocate. So, we just go to ordinary local places, and alongside that we're raising awareness of disability and inclusion and about the value that people bring to their communities and about reciprocal relationships and all that kind of stuff." (Ellie, Independent Advocacy Project)
Without these facilitated connections or activities, we found that people with learning disabilities often lack opportunities for organisational social participation, such as in the work place. As a result, people lack access to opportunities to learn relevant tacit knowledge such as cooperation, trust, timeliness, etc.
With day centres closing in many areas, we found that the facilitation of opportunities for people to gather together regularly, was vitally important to enhance their social associations with each other and satisfy their social needs.
Increased efforts of support staff to build social networks and provide the opportunities that would in turn provide the one-to-one support sometimes required to connect people socially, such as attending community activities. One manager of a friendship group talked about the risks of solely relying on the wider community:
"But all of the dialogue around this sort of thing around inclusion, communities, it's all very aspirational I find, and actually what the reality is it's quite different." (Jeff, Good Neighbours)
A friendship meet-up group is an important platform for socialising which offers a place to create meaningful encounters and connect different people in mainstream community settings. In our research we heard of lots of examples of learning disability organisations that facilitated this.
This can help people to build new social networks that supplement weakened family ties. These facilitated meet ups also tend to promote equal communication between members.
"We're kind of looking for people that are looking for like a friendship group, who are looking for us to heighten the social aspect in their life. And who are feeling kind of isolated to begin with, and I suppose the idea is that the group, it becomes a friendship group, and then from having that new kind of safety net of a group of friends they become more confident and then ultimately they become more independent in their own lives." (Andrew, Good Neighbours)
The same organisation also tried to keep the numbers of people in a network small to ensure that outings in the community enabled the group to connect and 'fit in' more in community settings. A network of 9-12 people meant that for most activities 5-6 people would attend an outing, as the likelihood was that not everyone would turn up to every outing:
"so it kind of flies under the radar a wee bit. It's not like a day centre outing, you don't have a busload of people pitching up at the pub. You have a small group of people. And the other thing that contributes to us being able to successfully community connect isn't just time and place, it's accessibility. The networks need to be accessible to the public. Do you know what I mean? People aren't going to approach a huge big group of people or try and connect with them." (Andrew, Good Neighbours)
While learning disability specific facilitated group activities may be considered as out-of-step with personalisation and old-fashioned, our research has shown that they still create a vital space for the people we spoke to. Members with similar interests could benefit from the building of denser social networks within a group of peers. Importantly, participants could receive intangible emotional support from friends as bonding ties which play a key role in enhancing their quality of life.
What learning is involved?
Participants in the study were often very aware of the social skills that people with learning disabled lacked and wanted to develop. However, this learning challenge cannot be individualised. People learn in social settings and organisations were learning how to create social situations that met people's needs for social connectedness and belonging. They learned together what worked for people and what was important. Learning to do things together was often a good way of learning how to hang out together.
What more can be done?
People participating in more active social lives may need to be provided with additional support such as travel training, guidance on relationships and keeping safe at night.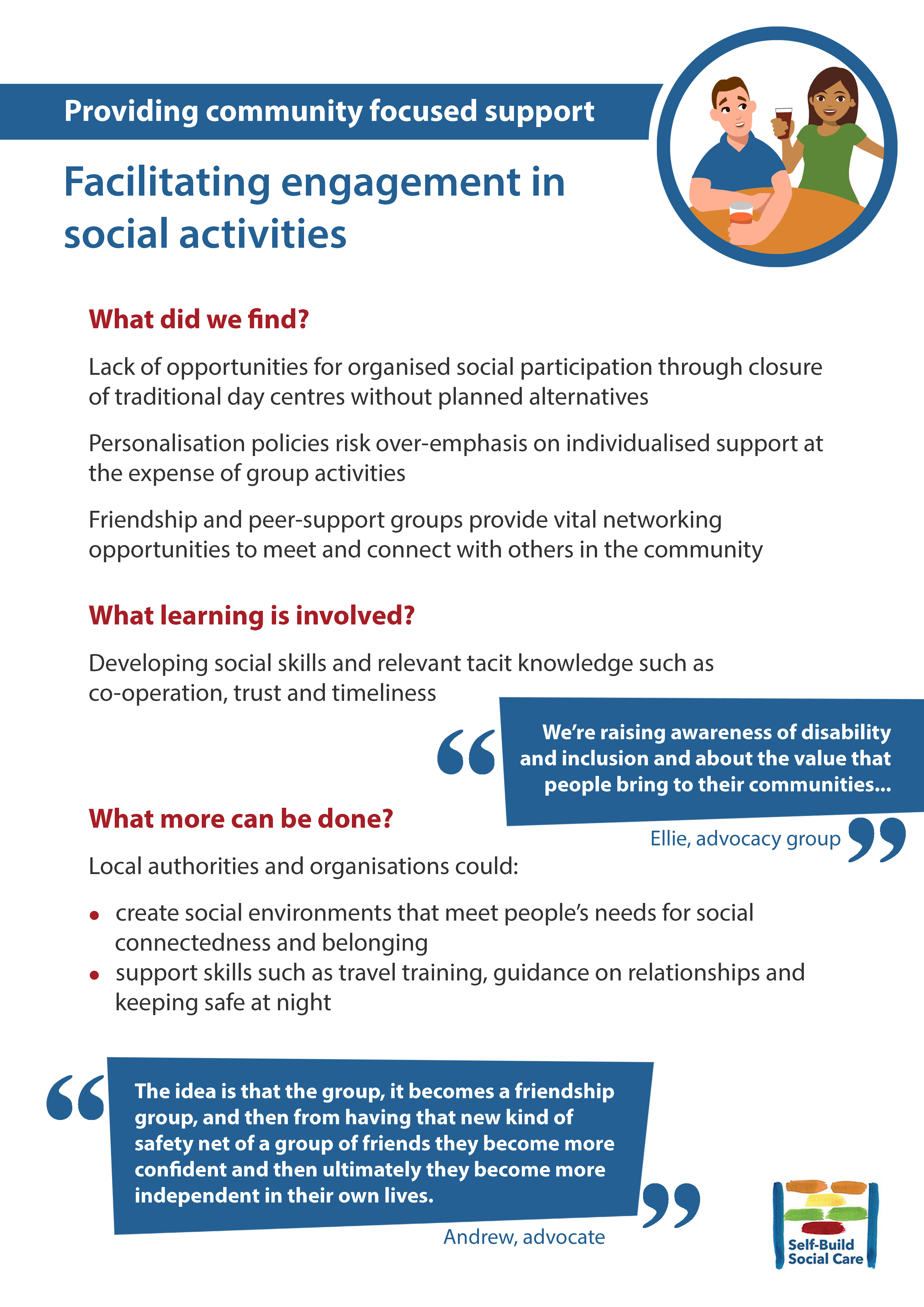 Facilitating engagement in social activities