"people think volunteers just go and do things. They need leaders"
Involving volunteers from the community in supporting and facilitating activities was evident in our research. Current social care policy champions co-production with community members in providing support provision. This model seeks to identify and promote the value of community assets.
We also identified examples of people with learning disabilities taking on volunteering roles themselves, such as helping with their peers on courses or activities that they have previously undertook. According to one manager:
"some of the young people are coming back and volunteering, and actually this is where--, this is us going into year three, weíre starting to see people blossom, either in the cooking or the gardening. So some of the people who were doing the cooking in their first year are now volunteering with other young people, so thatís a really positive." (Alice, the Right Deal)
A manager of a community credit scheme shared her experiences of using a mentor model to support volunteers with learning disabilities. Mentors are local community members who had agreed to mentor someone with a learning disability to volunteer. The mentors help with finding placements and exchanges or just offer support with networking with people that need a bit of support and pointing them in the right direction. The community credit scheme had also built up a network of local businesses such as restaurants that agreed to honour volunteering credits, that people could use to Ďspendí in their business.
However, one of the key challenges we found that support organisations face is finding and managing community volunteers. Organisation managers spoke of the need to both fund and free up staff to manage volunteers, and the lack of resources to do this:
"Part of our contract was to do -- there were some expectations to do community work. Unfortunately-- and there was a hope that we could find volunteers to be able to do that work. I donít know why, the volunteering environment has really dried up. It takes a lot of work to manage a volunteerÖ we donít have the capacity to do that." (Mary, Advocacy Central)
This sentiment was also shared by a manager of another organisation that ran facilitated friendship group activities:
"we used to engage volunteers massively throughout our projects but they still need supervision so thereís an element where as much as we could get people to volunteer lots of their time, I think realistically, expectations are that we are working with vulnerable adults and there does need to be some staff support as well in many of these areas. We do use volunteers where we can but we also do a risk assessment so there actually does need to be a member of staff involved." (Casey, Friendship Meet Ups)
Another manager spoke of the need to pay volunteers if they expected to get good quality involvement or if the role involved a more intensive investment of time. Otherwise, managers felt that it was asking too much from people. Given the short-term nature of funding, sustaining a volunteerís involvement can be very difficult:
"People think volunteers just go and do things. They need leaders. And with the best will in the world [laughs] I canít split myself and neither can Tom. And you can get some volunteers to lead projects, but youíre asking a bit much all the time. If you pay for a leader, which we did with that money and we had Martin our horticulturist who led a gardening group, we had so much more back from that because he was, in turn, then dedicated. Iíve ran out of funding for Martin so I had to let him go at the end of October. Iím not happy about that but Iím trying to get a bit of funding in for March. And now Iíve got about 25 people thatís going to be sitting around, well not sitting around, I have to find alternative things for them to do during the winter months. They love gardening. Thatís quite difficult, thatís hard but Iím going to try and keep them connected." (Sian, Volunteering Support)
Our research suggests that there are many barriers to recruiting and sustaining the involvement of volunteers. The quotes help to illustrate the challenges being faced by organisations in running activities that draw on the input of volunteers. While volunteers are an important asset, we share the concerns expressed in other research that some people contribute a disproportionate share of voluntary effort, and considerable variation exists across the UK. This makes it more difficult to rely on volunteers in some communities than others. Part of the challenge is to adequately recognise the financial and staffing demands that organisations need to invest in order to maintain a sustainable body of volunteers.
What learning is involved?
Considerable emphasis is put on people with learning disabilities doing volunteering as part of their self-built lives. Sometimes this provides a rich context for learning new skills and roles, but without high aspirations and good support volunteering can turn into something mundane, offering social benefits but few learning opportunities. Volunteers involved in self-building Ė those with learning disabilities and those in support roles Ė need mentors to optimise what can be achieved. And knowing how to be a good mentor is also a challenge. Ultimately good use of volunteers calls for community learning, that is, learning individually and collectively so that capacity is built by the community as a whole as well as the people within it.
What more can be done?
Local authorities could consider commissioning a community credit scheme in their area to help foster learning disability volunteering. One example that we came across from our advisory group is from Volunteering Dorset. Local authorities could recognise the extra demands on organisations required to sustain the involvement of volunteers, and support them in their volunteer-management activities.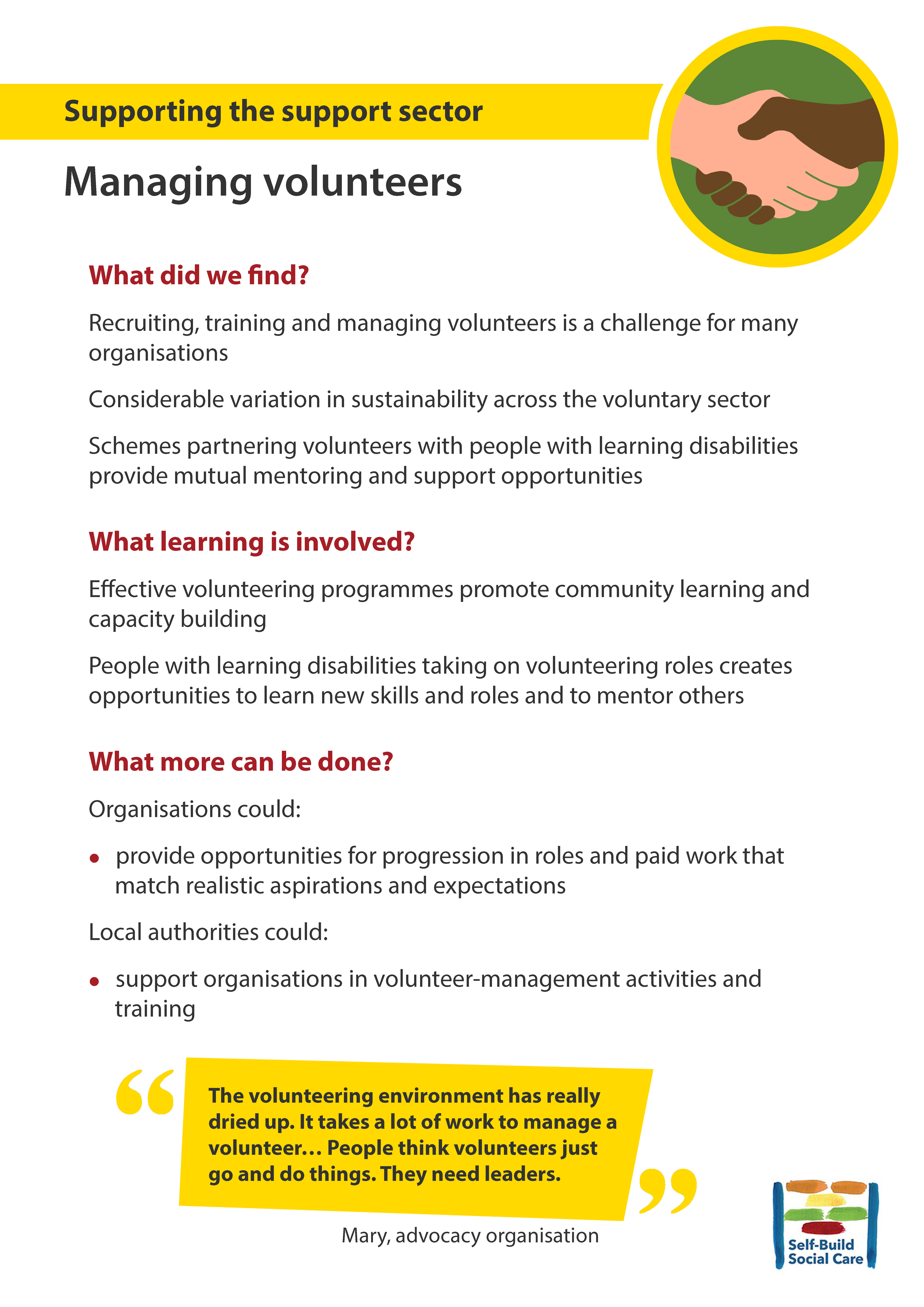 Managing volunteers