"they should have more clubs open than just … once a month"
Spending some time during the week doing leisure activities that are enjoyable and meaningful is important. Given the barriers people with learning disabilities face in finding work, they have more 'free time' than the general population. So, taking part in leisure activities can be an important way to not feel isolated.
Leisure activities can involve spending time to have fun, relax with friends, do a physical activity or follow an interest like support a football club. The aspects of leisure that people valued were similar to the characteristics of a 'good day' for people with learning disabilities described in a 2007 SCIE review which were:
Doing things that have a purpose
Being in ordinary places
Doing things that others would be doing
Doing things that are right for you
Receiving support that meets your needs
Being in touch with local people, meeting people
Developing friendships
With more day centres closed, people are having to find different ways to do leisure activities. Part of the challenge is finding out about what is going on and how to get there. Having this information can give people more power to make up their own mind: 'I think if people know with their schedules they can say, well, I'll go to that, and no to that' (Mason, self-advocate).
While many activities were 'freely chosen', different barriers affected how people spent their time. In some areas, activities were closing down due to funding cuts and broader changes in the local area. This was a point made by Sally about her town in a rural area in Scotland: "The day care is closing down, the lunch club is closing down, I don't know about everything else. … There's loads of shops closing down. It'll be a ghost town soon". (Sally)
Another challenge was that for a lot of people, it seems there were not very many things to do at the weekends or evenings. This was often due to limited opportunities such as having support staff or the lack of budgets, and fears over safety of doing things on their own:
"I think that they should have more clubs open than just … once a month, to go to at weekends, for people that want to. Yeah. It all boils down to safety though, doesn't it, half the time? And money." (Dennis, self-advocate)
Others shared stories of having large periods of time during the evenings and weekends where they were stuck at home: 'chilling out', 'watching TV', and 'going on the computer'. One person, Paul, said that this 'free time' was not chosen but due to staff cuts. This feeling of being stuck at home was sadly more common for those without family. For most people, having more opportunities to take part in group activities was welcomed.
While these challenges remain, we were glad to find that most people in our research spent some time in their week doing leisure activities. For people with more support needs, these tended to be organised day service activities. Despite the goal to give people more choice and control over their support, most people did activities on a weekday when they could access support or attend a day service. The amount of time spent going to these activities during the week depended on their eligibility for a social care personal budget as they usually needed support to attend. This meant that many people had regular weekly routines, often to fit with the needs of those providing support. Some activities were less frequent (such as discos) or seasonal (e.g. some outdoor sports).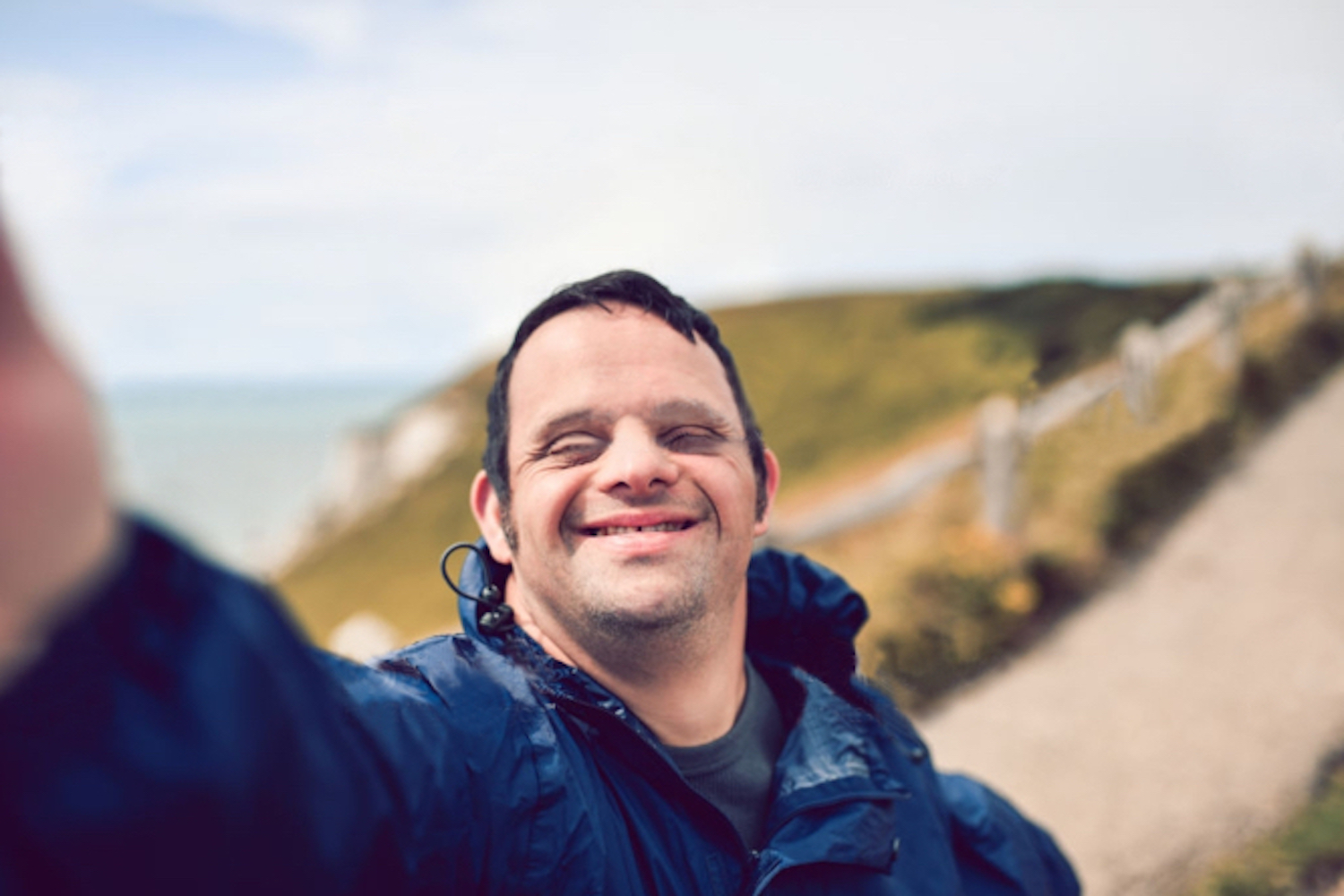 In some areas, organisations had started to facilitate group leisure activities through friendship groups. These leisure activities ranged from arts and crafts and performance arts to sports (indoor and outdoor) and other healthy activities such as walking and gardening. Some organisations also helped facilitate special events such as discos for people with learning disabilities. These were a lifeline for many people who no longer went to a day centre.
Most of these activities (outside day centres) took place in public venues. This enabled more links to the wider local community. While inclusion in the community was important though, people talked about how they enjoyed doing group activities with other people with learning disabilities. These were seen by those taking part as fun ways to be with their friends.
For people who had gained more independence, taking time out from organised daytime activities to do more personal things was important. This included going shopping or going to the library or walking the dog. For some, this provided additional social engagement with the wider community. People talked about doing these things either on their own or with family or support workers. Unlike the people who were 'stuck at home', some welcomed the odd chance to relax. Leonard said that 'sometimes I don't get the time, I'm tired from working sometimes' (Leonard, self-advocate).
For this group of people, weekends were a chance to spend time with family or with friends they do not see at disability groups, to participate in activities such as going to watch the local football team or going to church. Being part of a self-advocacy group gave people more confidence to plan their own nights out with their friends. Some spoke about using a WhatsApp group to plan nights going to pubs, the cinema and bowling.
"Some of us meet up on a Monday. We go to Go Lounge, we go to Vines or we go to the cinema. We see all different films at the cinema." (Paddy)
As well as having the confidence to meet up like this, this group of people also showed a greater awareness of safety. A few spoke about keeping safe in the evenings, supporting each other to bus stops and sharing taxis. Again, like the other building blocks, being part of a self-advocacy or friendship group was a key way that people gained these skills.
What learning is involved?
Considerable learning was involved in setting up a routine that included meaningful activity. This involves a lot of decision-making and time management such as what to take on and what to give up, where to put your energy and what to focus on. Doing leisure mostly involved learning where to find out about what was going on and how to get there. Two people talked about wanting to learn about their particular interest in their leisure time but courses or support for this were lacking.
What more can be done?
While some people use weekends and evenings to relax and spend time with family and friends, there are others who would benefit from more organised social and leisure activities, including opportunities for days out and holidays.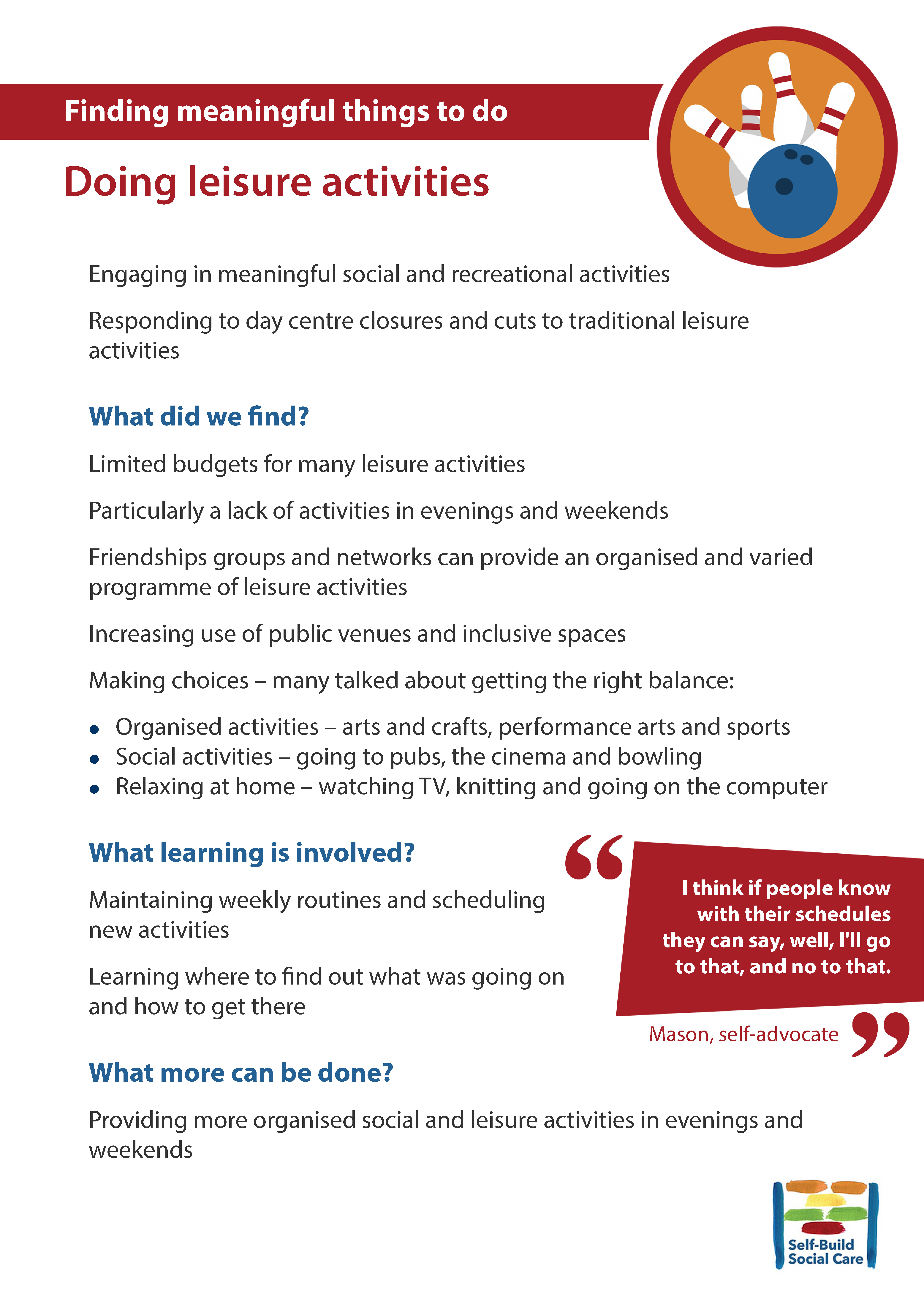 Doing leisure activities