Getting Involved In Disability Groups
"I've become involved in our Friendship meetup steering group"
Another way that people can do something meaningful is to get involved in a local disability support group. Many people had gained the confidence and skills to do this from taking part in self-advocacy groups. Those who had gained these skills had been given the opportunity to take up positions on a management or steering group within their local disability support organisation. When we asked people what they go out of this, Linda said that:
"I go to a lot of these groups because I like to be involved, I enjoy being involved in my community and making changes, to make things better for people with learning disabilities… It makes you feel a part of it, a part of what's going on" (Linda)
For Sarah, who volunteered at the Book Shop Project, it was a chance to 'learn new stuff and get out of the house'. Getting out of the house for the day to do something meaningful was an important benefit, given the cuts in social care.
When we asked people how they gained the skills and confidence to take part in these activities, some spoke of already being able, as Sally explained below:
"Cause there was people like me who knows what they're doing and can remember dates, birthdays, wherever I've got to go and that, I could be a secretary to everybody [laughs]. I'm always organised. I have to remind people this, remind [them that]. Oh, they rely on me for everything… [laughs]." (Sally)
For others, who did not have the confidence or skills, some spoke of doing a learning disability course:
"I was getting a bit better, aye. When I left, when I finished in the special needs course, I was getting better." (Linda)
In most cases, the organisations we spoke to were able to help the person to build on these skills through providing staff support at group meetings. A manager of one organisation talked about how the chance to take part in group meetings had helped one person Dennis:
"Dennis is very much a can-do kind of person, you know… And it's really nice to see, although it's individual advocacy that these guys have maybe come to us with, but actually it's a group environment they're really flourishing within, so within the board or the steering group, you know, and actually having influence on his own group of friends as well." (Ellie, Independent Advocacy Project)
One person, Sally, who was involved in an organisation's steering group shared her experiences about this. She found working with people of different levels of ability and skills rewarding but sometimes frustrating:
"I would just like it to be a bit more serious than laid back because we all have different roles… It would be because the people in the group don't have the level of understanding that I do, so they would take offence. They don't fully understand what they're supposed to do so can't step up." (Sally)
When asked if there was anything that could be done to help the people to understand more about their roles, Sally said 'further support, the two support team members to help them with their roles.'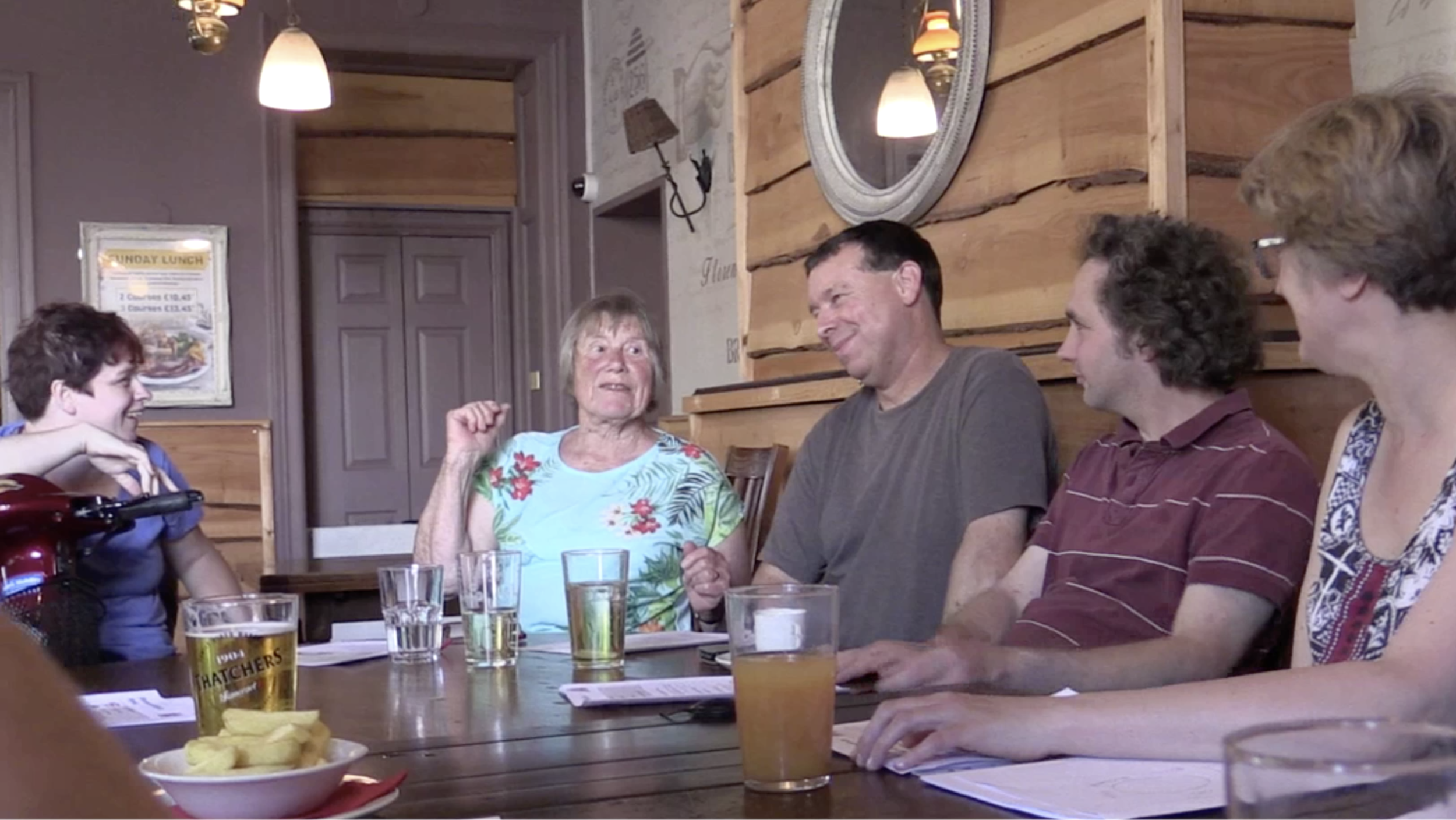 Getting involved in disability groups does not have to only mean joining a management or steering group. We also heard examples of people becoming involved in talking with children in schools about bullying. One person, Freddie, got actively involved in the Enable [Scotland] #BetheChange campaign which aimed to put an end to bullying and isolation of people with learning disabilities. As part of his role as a 'change champion' Freddie has been delivering workshops across Scotland, speaking to schools and other organisations about the effects that bullying can have on what can be done to change this.
These activities were very meaningful for the people involved, and helped them to gain more confidence in other settings in the community.
What learning is involved?
Becoming involved in disability organisations introduced people to active roles in which they could learn as they went along. Here there was peer-to-peer learning too, with role models to follow and people who had experienced similar things to share support and advice. The disability organisation often had a strong learning culture so that opportunities for learning were optimised.
What more can be done?
Support organisations of all sizes could encourage more opportunities for people to get involved in roles that help shape the organisation. A steering group for example can help identify what activities people like to do.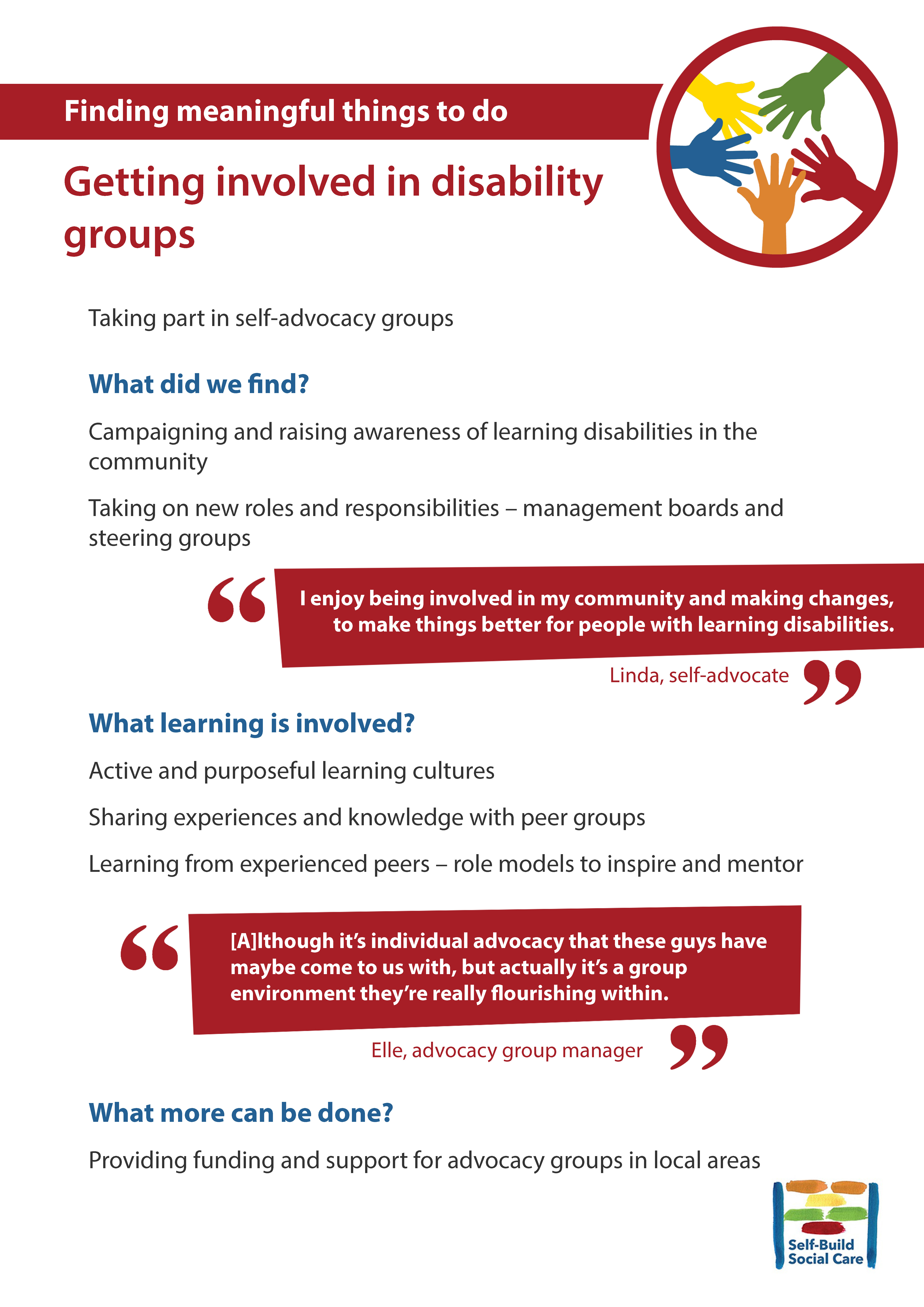 Getting involved in disability groups