Keeping And Feeling Safe In The Community
"Where you have a vulnerability sort of situation, you've got to be quite careful"
One key step towards building lives within communities, is learning of ways to keep safe. Keeping and feeling safe is important for people getting out more in their communities. When you live in a community and participate in activities and groups, you will meet a wide range of people and be in many different situations. Sometimes these experiences will not be positive. There was very strong awareness of the risks of harassment amongst the people we spoke to and the need to keep safe. This was often covered in self-advocacy groups and other organisations that arranged community activities.
Many people had learned of ways to make sure they were not harassed when they were on their own, such as staying away from large groups, as Mason describes below:
"In the evening with football if I'm walking back through the park I sort of keep my distance from groups, if anything does happen to me, they're in like the distance, a short distance between me and them, with a group of friends." (Mason)
Mason also thought that wearing the same jersey helped as well: 'Yeah, because there are other fans, so you know you'd be sort of okay.'
Some of the people spoke about how being a dog owner made them feel much safer when out and about in parks and local neighbourhoods. Having a pet dog and being a dog walker can give a feeling of security as well as a different identity when out walking. In the text below, two people talk about their experiences of being out with a dog:
"I think most people would be [fine], when they're not people [you know] who probably you wouldn't have an issue with, when you've not got a dog and that. I think a dog, with a dog, you feel safer and that." (Mason)
"Yeah, 'cause my dog will bark if any strangers come over. He will growl, give them a warning." (Dawn)
Another person, Malcolm, talked about the risk of people asking for money. Malcolm regularly attended a self-advocacy group, and he showed a very good awareness of this issue and the need to be careful.
"I know for example a family member of mine was like giving money to people when they ask for it and stuff like that. That's what I sort of mean where you have a vulnerability sort of situation, you've got to be quite careful." (Malcolm)
We found lots of examples where the police had come to speak to the local self-advocacy group about community safety. Other groups also organised sessions on keeping safe in their homes and in the community.
Keeping and feeling safe also related to bus travel. We found that some people were wary of using buses such as late at night.
I think the other issue for a lot of people is being able to get back safely with groups, so women, like. I think the evening groups, getting back would be for a lot of people a safety issue. (Mason)
When asked how he got home from the evening groups, he said: 'Me and another friend, we normally share a taxi'.
Staying safe online is also increasingly important, as more people now use smart phones and home computers to access information and keep in touch with friends. This was also beginning to be talked about at self-advocacy groups.
What learning is involved?
People spoke about learning to keep safe in their homes, in the community and online. Advocacy organisations and the police helped people to learn to stay safe. From talking to friends and family, people also learn about which places are friendly and welcoming to people with learning disabilities, and which places are less friendly.
What more can be done?
Organisations and advocates can help people to learn about staying safe in their homes and communities. Also, people need to be supported to feel confident and have the skills to get out and about in their local areas, to take up new opportunities, and to meet new people.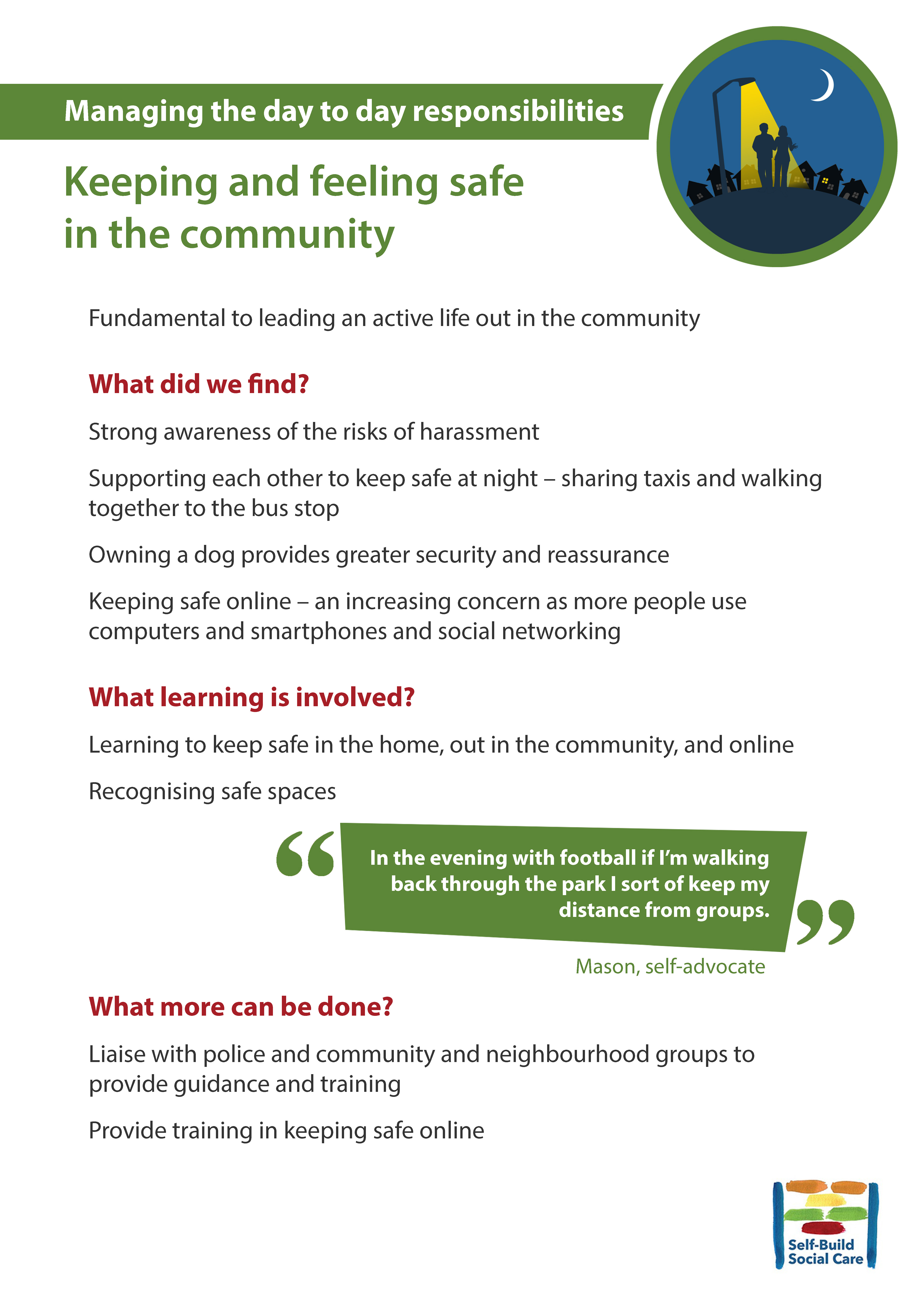 Keeping and feeling safe in the community