Managing Benefits And Money
"they give my mom the money and then she'll give it to me"
Managing benefits and money can be tricky. Our research found that most people needed some help to manage their own budget, be it from their mum, dad, sibling or care manager. We also found that many had little control over their budget and were having to rely on 'pocket money'. This was something Sarah explained:
"I do get money. Like a few times. So, like, it will go into my mom's [account], mom gets the money and then she'll put it in my bank account, so I'll have, so I have it. So, I do get money going in." (Sarah)
We know from other research that there is a link between having a learning disability and experiencing poverty. In our research, we found lots of examples of this: people who did not have much money and who worried about it. Many spoke about how this shaped their experiences. Some talked about what they could not afford. One person, David, who had bought a car with some savings from when his grandmother passed away, talked about how this money was running out and his concerns for the future.
"I can't volunteer, can't afford to, I have to do a paid job. Because my car costs me a bit of money, about fifty pounds a week. [I fund that out of] my own savings. When my gran died ten years ago she left me some money. I haven't worked since I was 42. And my mum still wants rent from the house I'm living in, wants £400 a month and I'm not paying it yet. So that's a worry isn't it? And if my money runs out I won't be keeping any cars will I?" (David)
Other people talked about not being able to do more simple things like occasionally going out with friends or about having to carefully budget weekly shopping with their care managers. One person said that "I don't go to the cinema, I can't afford it nowadays nine quid or something" (Mason).
Most of the people we spoke to had access to some level of government welfare benefits, including Personal Independence Payment (PIP) and Universal Credit (where it had been brought in).
However, one of the main concerns people had was over benefit assessments. One advocate stated that the transition from Disability Living Allowance (DLA) to PIP is 'an issue for a lot of members because they have to then be reassessed and a lot of them are failing' (Casey, LD Self-Advocacy Group). There were lots of examples of people talking about the issues with cutbacks to their benefits and how this worried them. For example, Sally had to go to a tribunal relating to her benefits re-assessment on her own without an advocate. We do not think that this is acceptable:
"I get anxious when I've got to go for like the big assessments in [Scotland local authority]. It's when you've got a tribunal and it's three different people and when you're in that room, you're alone with those three different people. They want you to go in by yourself at the start of it, and then at the end of it they bring the care manager and ask if they want to say anything." (Sally)
When we asked Sally how she finds that whole experience, she said:
"It's horrible. Because I can't think on the spot, I take time to think of an answer and I feel pressured to get an answer quickly so therefore I mess up. It's just horrible… My last assessment, my care manager is appealing it." (Sally)
Another local authority we spoke to had brought in charging for people on the higher rate of PIP. An advocate in the area felt this was unfair because the higher rate payment was given to meet people's higher disability-related costs.
Another issue was the barrier to work with PIP. Those who were working or seeking to find work were aware of the barriers to full-time work with this benefit (only 16 hours work are allowed). Losing PIP was a major concern for people including family members.
"I did have DLA and then they cancelled it. Then I went to court two times and they thought I could get a job on my own. Then Mum got annoyed with them because they said I should be able to do it on my own and get a job, and Mum's saying, "No, you can't." She told me I can't get a job, I just need more support. That's why I'm with Barnardo's at Work. They're supporting me. It's 16 hours. I can't do full-time because of my PIP." (Sarah)
To help with money issues, some people had taken part in money awareness training that was organised by their local self-advocacy organisation. This training included shopping skills such as shopping around, making a list and sticking to it, paying and checking change. This training helped those who had taken part by improving their confidence with managing money.
We also found that money advice centres, where available, offered a lot of support for people. Some people in our research talked about getting lots of helpful advice and support from their local Citizen Advice. These centres also gave helpful advice on welfare benefits such as their disability and Universal Credit benefits. As well as Citizen Advice centres, we also found a money budgeting centre in one local authority that offered tailored support and advice to people with learning disabilities.
What learning is involved?
Managing money is a key skill required to live as part of the community. It is also about being able to live more independently. Money awareness training is available in some places and can be a good way to learn about making decisions and planning with money. Some people had done college courses to help with this or were learning skills through work or volunteering that they could apply to their everyday lives.
What more can be done?
Support organisations could read the Money Matters toolkit produced by one of our advisory group partners, People First Dorset (PFD). They could try to use this to develop their own training. With this training, PFD found that people were more confident about managing their money.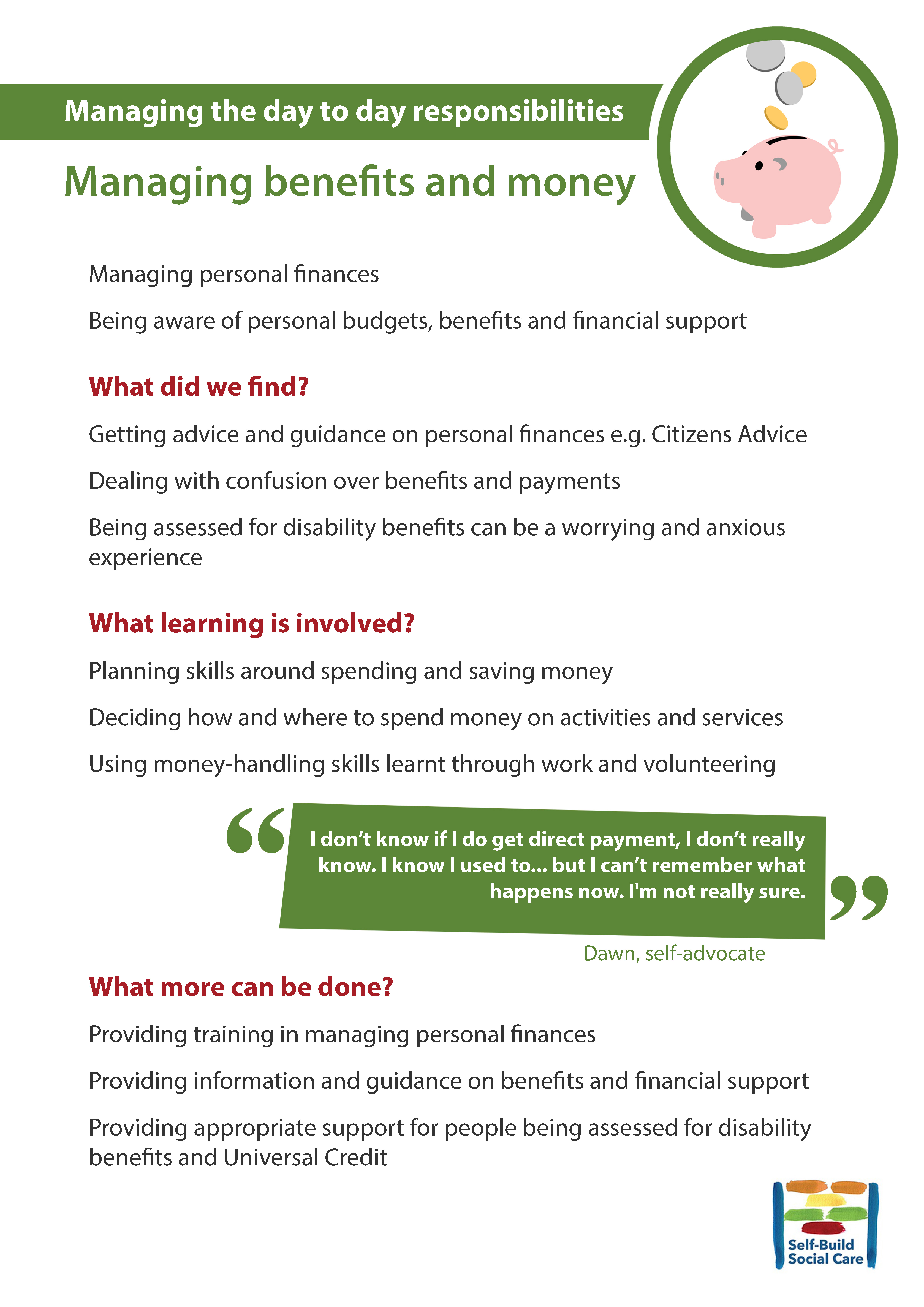 Managing benefits and money